The Duet Set
(8 assorted duets for B-flat Clarinet & Bassoon)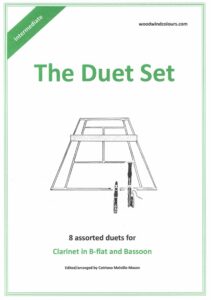 Instrumentation:
Part 1: Clarinet in B-flat
Part 2: Bassoon
Standard: Intermediate
Parts designed for players of ABRSM Grade 4 – 5 standard and above.  Several of the pieces in this set are on the challenging side!
Contents:
The Wild Horseman (R Schumann)
Rondeau from Suite No. 2 (J S Bach)
Gallopade (Anon.)
Moment Musical (F Schubert)
Slavonic Dance Op. 46, No.3 (A Dvorak)
Ottinger Reiter-Marsch (J Strauss II)
Traumerei (R Schumann)
Entry of the Gladiators (J Fucik)
Hear some snippets – (YouTube video opens in new window)
The download contains 3 PDF files:
Complete set of parts for each instrument
Scores (transposing and concert pitch) for complete set
Useful extras – cover sheet, contents list, information on the pieces.
Don't forget to keep a back-up of your files for future reference.