Serenata Veneziana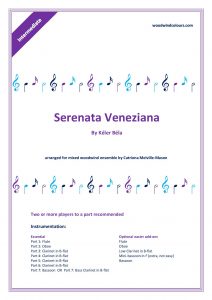 An arrangement of Kéler Béla's Serenata Veneziana, intended for a medium-sized woodwind group of perhaps 12 – 20 players.
This charming light work is approximately 7 minutes long.
Hear some sample sections (YouTube video – opens in new window)
Instrumentation:
Essential:
Part 1: Flute
Part 2: Oboe
Part 3: Clarinet in B-flat
Part 4: Clarinet in B-flat
Part 5: Clarinet in B-flat
Part 6: Clarinet in B-flat
Part 7: Bassoon (or Bass Clarinet in B-flat)
2 or more to each part recommended, unless players are particularly expert.
Optional easier 'add-on' parts for flute, oboe, low clarinet in B-flat and bassoon are also included – ideal if your ensemble contains one or two less-experienced players.
There is also a part for mini-bassoon in F – this is an extra, rather than an easier, part.
Standard: INTERMEDIATE
Intended primarily for players of ABRSM Grade 4 – 5 standard or above, on the assumption that responsibility for each part is shared by more than one player.
The download consists of 3 PDF files:
Useful Extras – How to find what you need; notes for Musical Directors; information on the composer & work
Scores – Cover sheet, core score (essential parts only) and full score
Parts – complete set of essential and optional parts
Remember to keep a back-up copy of all three files for future reference.