Ready, Steady, Blow! 
Ready, Steady, Blow! is a handy, easy-level set, ideal for many small school, family or community groups.
These three-part arrangements, designed primarily for transposing woodwind instruments, offer scope to be played by a saxophone trio (2 altos and tenor) or a mini-band of mixed wind instruments, provided all three core parts are adequately covered.
Instrumentation (core parts):
Part 1: Clarinet/Trumpet in B-flat
Part 1: Alto Saxophone in E-flat
Part 2: Clarinet in B-flat
Part 2: Alto Saxophone in E-flat
Part 3: Tenor Saxophone in B-flat
Part 3: Bassoon*
Additional or Optional Parts
Woodwind: Flute (Oboe)*, Easier Flute/Oboe, Soprano Saxophone/Clarinet in B-flat
Brass: Horn in F; Baritone/Euphonium/Trombone B-flat treble clef*; Trombone (Bass Clef)*
Standard: Easy/Improver
Parts for clarinets and saxophones are well within the scope of ABRSM Grade 1 – 2 players, with Part 1 being particularly approachable (e.g. for clarinet – left hand notes plus B)
Asterisked parts (C woodwind, brass instruments) may prove a little more challenging in places.
Most of the pieces demand accurate basic counting but are otherwise pretty straightforward.  Some expect careful attention to dynamics and articulation to capture the appropriate style, while nonetheless using a restricted note range.
Contents
Eventide (W H Monk)
Articulation Waltz (C Melville-Mason)
Dudelsack (Traditional)
Masherbrum (C Melville-Mason)
Davy-Nick-Nack (Traditional)
Skip to my Lou (Traditional)
Lizadoodle (Traditional)
Tea Time (C Melville-Mason)
Rakes o' Mallow (Traditional)
Swingy Thingy (C Melville-Mason)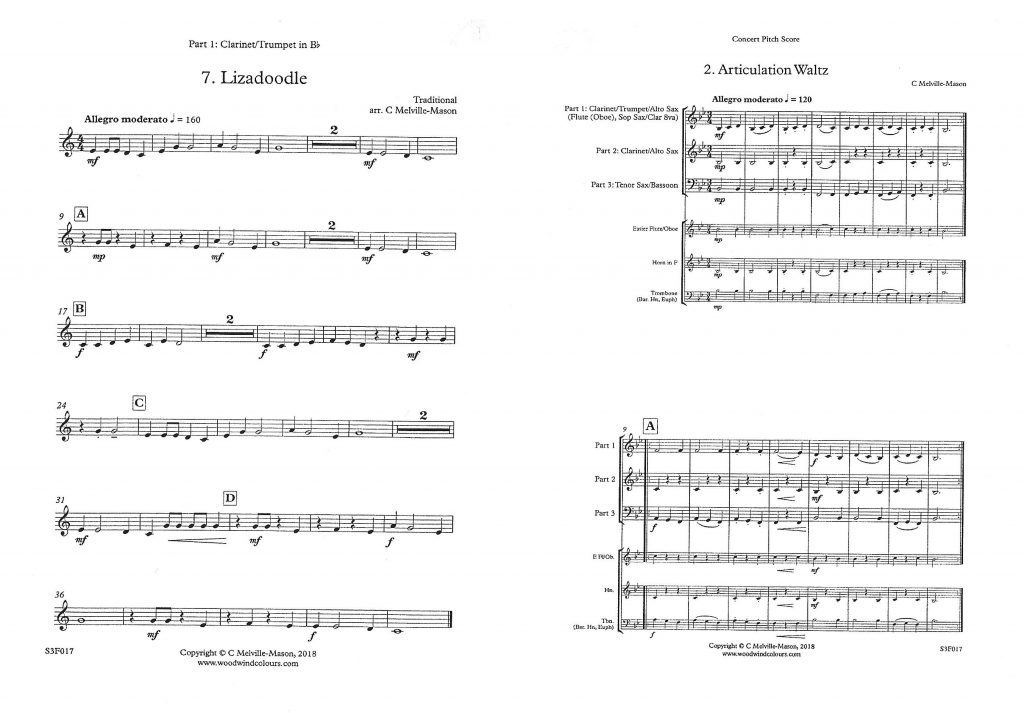 The download includes four PDF files:
Complete set of parts for the core instruments
Complete set of parts for all additional/optional instruments
Concert pitch scores for complete set
Useful extras folder – cover sheet, contents list, guidance notes and details of how to find/print the parts you require.
From these, you can decide what to print out, depending on your particular circumstances.  Do keep a backup of all four files for future reference.