Play it 2gether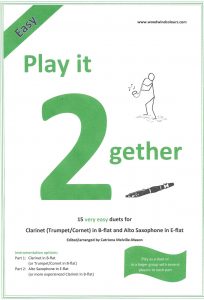 15 very easy duets, ideal for young (or not-so-young!) families who would like to make music together.  Build fluency and strengthen confidence in reading notes & rhythms, while developing ensemble skills.  Practise up a couple of tunes and perform them to friends or grandparents by video link!
Instrumentation
Part 1: Clarinet (Trumpet/Cornet) in B-flat
Part 2: Clarinet in B-flat* OR Alto Saxophone in E-flat
Standard: EASY
Part 1: Clarinet (Trumpet/Cornet) and Part 2: Alto Saxophone are well within the scope of players approaching ABRSM Grade 1 standard.
*Part 2: Clarinet contains three tunes requiring upper register notes.  All remaining items can be comfortably managed by Grade 1 level players.
Contents
Abide with Me
Articulation Waltz
This Old Man
London Bridge is Falling Down
Skip to my Lou
Bobby Shaftoe
Frere Jacques
The Cuckoo
The Rakes of Mallow
Menuet (Haydn)
Campdown Races
Michael, Row the Boat Ashore
Oh Susanna
Minuet (attrib. JS Bach)
Spring from  The Four Seasons (Vivaldi)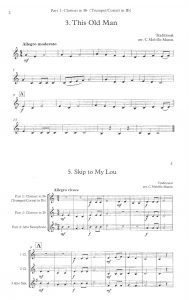 The download includes four PDF files:
Complete set of parts for each instrument
Transposing and concert pitch scores for full set
Useful extras folder – cover sheet, details of how to find the parts you require, contents list, guidance notes.
Links to access 'bouncing ball' play-along practice videos on YouTube
Don't forget to keep a back-up of all four files for use in the future.