Play it 2gether 

at Christmas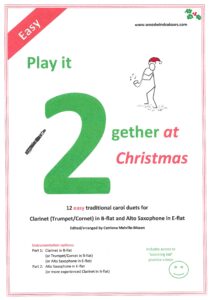 12 easy-level festive duets, ideal for young (or not-so-young) families who would like to make music together.  Build fluency and strengthen confidence in reading notes and rhythms, while developing ensemble skills.  Why not polish up a couple of tunes to entertain friends or family at Christmas, in person or by video conference?
This set comes with links (embedded in a PDF document) to helpful 'bouncing ball' YouTube practice videos.  Follow your part while listening to how the two lines fit together – or try playing along!  The bouncing ball will help with counting rests, tricky entries or just identifying places where rhythms or timing are not quite accurate – a really useful practice tool.
Instrumentation options:
Originally intended for the following combination:
Part 1: Clarinet (Trumpet/Cornet) in B-flat
Part 2: Alto Saxophone in E-flat
The set also comes with alternative parts as listed below, offering scope to be used by clarinet duet, alto saxophone duet or duo of trumpet plus clarinet or alto saxophone.
Part 1: Alto Saxophone in E-flat
Part 2: Clarinet in B-flat*
* Part 2 for Clarinet in B-flat is a little more demanding, requiring upper register in several tunes.
Standard: EASY
Parts are usually well within the scope of players of ABRSM Grade 1 – 2 standard, with Part 1 being particularly appropriate for early-stage clarinet/trumpet/cornet players.
In the few cases where players have to sustain an independent rhythm, reference to the 'bouncing ball' videos should help to resolve any issues with counting.
Contents:
Away in a Manger
O Come, all ye Faithful
Jolly Old St Nicholas
Once in Royal David's City
Up on the Housetop
In the Bleak Mid-Winter
Good King Wenceslas
The Holly and the Ivy
Unto us a Boy is Born
We wish you a Merry Christmas
Angels from the Realms of Glory
Jingle Bells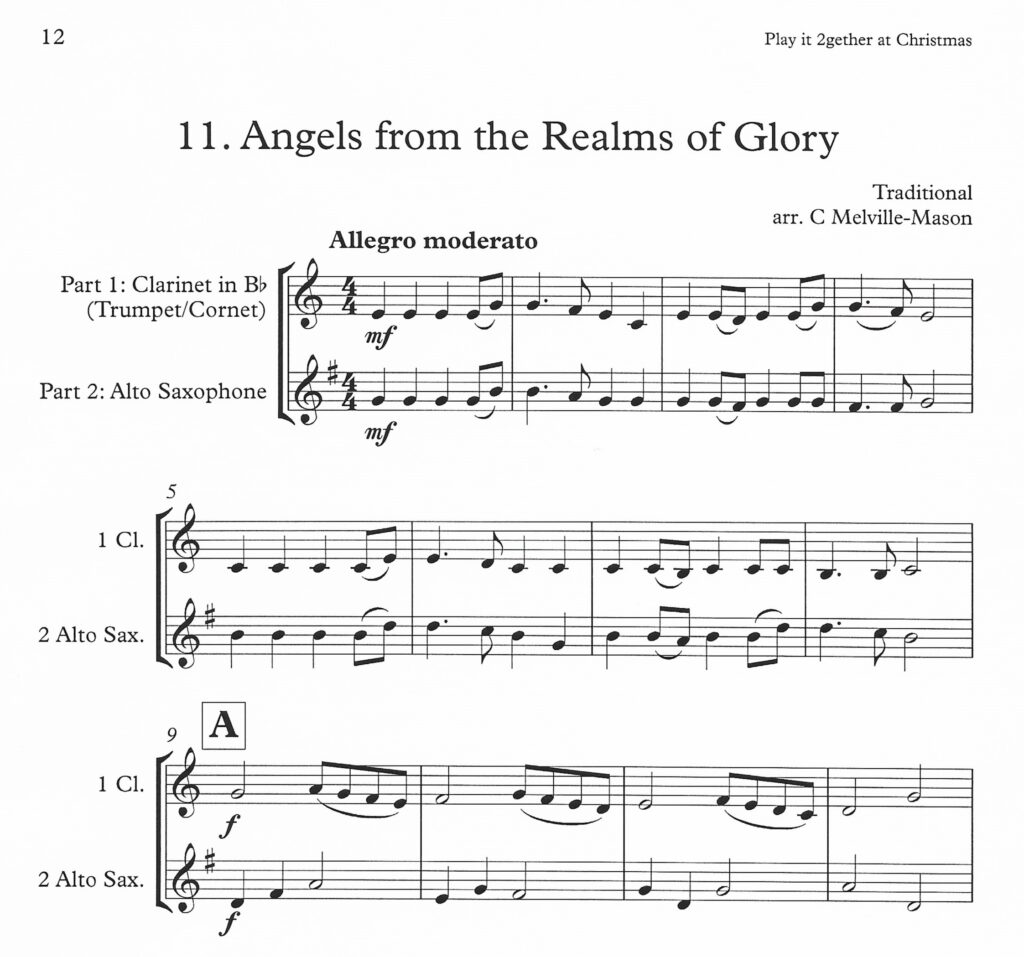 The download includes 4 PDF files:
Complete set of parts for each instrument
Transposing and concert pitch scores for the set
Useful extras folder – cover sheet, contents list, guidance notes.
Links to access 'bouncing ball' play-along practice videos on YouTube
Don't forget to keep a back-up of all four files for future reference!