Little Brown Jug/Jimmy Crack Corn
for woodwind ensemble (including alto saxophones)
or small wind band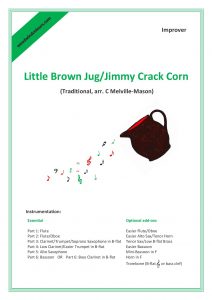 An arrangement of traditional favourites Little Brown Jug  and Jimmy Crack Corn intended for a woodwind group (including Alto Saxophones) or small school-style band of perhaps 12 – 25 players.
Hear some sample sections (YouTube video – opens in new window)
Instrumentation:
Essential parts
Part 1: Flute
Part 2: Flute/Oboe
Part 3: Clarinet/Soprano Saxophone/Trumpet in B-flat
Part 4: Low Clarinet/Easier Trumpet in B-flat (6 notes!)
Part 5: Alto Saxophone
Part 6: Bassoon  OR  Part 6:  Bass Clarinet in B-flat
2 or more players to each of these core parts recommended.
This set also includes a number of optional add-on parts for groups that include comparative beginners and/or common additional instruments, as follows:
Easier Flute/Oboe
Easier Alto Saxophone/Tenor Horn in E-flat
Easier Bassoon
Mini-Bassoon in F
Horn in F
Tenor Saxophone/Low B-flat Brass
Trombone (Bass Clef or B-flat Treble Clef)
Standard: IMPROVER
Core (numbered) parts are suited to an ensemble where the majority of the players are of ABRSM Grade 2 – 3 standard.
The download includes 3 PDF files:
Parts – a complete set of all the essential and optional add-on parts.
Scores – cover sheet; core score (transposing) – includes essential parts only; full score (concert pitch).
Useful Extras – how to find what you need; notes for Musical Directors; information on the piece.
Don't forget to keep back-up copies of all three files for future reference.