Light Winds (5-part ensemble)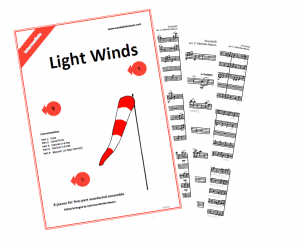 Instrumentation:    
Part 1:  Flute
Part 2:  Oboe/Flute
Part 3:  Clarinet in B-flat
Part 4:  Clarinet in B-flat
Part 5:  Bassoon  (OR  Part 5:  Bass Clarinet in B-flat)
Standard – INTERMEDIATE
Keys, note ranges and technical challenges suited to players of ABRSM Grade 4 – 5 and above.  Requires confidence in sustaining an independent part, both in terms of notes and rhythms.
Generally, the challenge lies in fitting the parts together effectively to achieve a satisfying ensemble performance, rather than in the technical difficulty of individual parts.
Contents:
Dance of the Hours (Ponchielli)
Contretanz (Mozart)
Don't Know (CMM)
Heidenroslein (Schubert)
Mairi's Wedding (Trad.)
Manhattan Beach (JP Sousa)
The Grand Old Duke of York (Trad.)
Marche Militaire (Schubert)
Hear some snippets (YouTube video – opens in new window)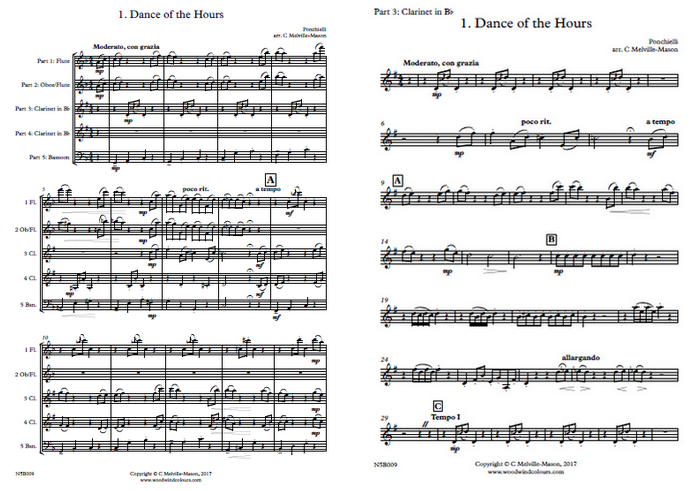 The download includes three PDF files:
Score (transposing) and parts for each tune
Concert pitch scores for the complete set
Useful extras – cover sheet, contents list, information on the pieces
Depending on your particular circumstances, you may not wish to print out all the material – but do keep back-ups of all three files for reference or future use!