I'll Be Blowed!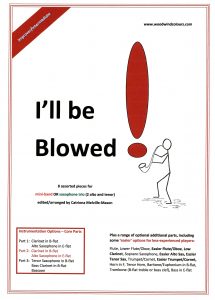 I'll be Blowed!  is a handy, semi-flexible set, ideal for many small school, family or community groups.
These three-part arrangements, designed primarily for transposing woodwind instruments, consist of the three essential or 'core' parts, plus an extensive range of optional additional parts. This provides scope for the pieces to be played by:
saxophone trio (2 altos and tenor – or multiples thereof!)
mini-band of mixed wind instruments – provided all three core parts are adequately covered.
Among the optional parts are 'easier' flute/oboe, clarinet, alto sax, tenor sax and trumpet parts, allowing less-experienced players of these instruments to participate too.
Instrumentation Options – Core Parts
Part 1: Clarinet in B-flat
Part 1: Alto Saxophone in E-flat
Part 2: Clarinet in B-flat
Part 2: Alto Saxophone in E-flat
Part 3: Bassoon
Part 3: Bass Clarinet in B-flat
Part 3: Tenor Saxophone in B-flat
Additional/optional parts 
Woodwind: Flute; Lower Flute/Oboe; Easier Flute/Oboe; Low Clarinet in B-flat; Soprano Saxophone; Easier Alto Saxophone; Easier Tenor Saxophone
Brass: Trumpet/Cornet in B-flat; Easier Trumpet/Cornet; Horn in F; Tenor Horn in E-flat; Baritone/Euphonium in B-flat; Trombone (bass clef or B-flat treble clef); Bass in E-flat
Standard: Improver/Intermediate
Most of the core parts can easily be attempted by players of around ABRSM Grade 3 standard. (More advanced players can increase the level of technical challenge by playing the faster items up to tempo.)
Some optional/additional parts may prove a bit more challenging, although easier alternatives are generally available.
Contents:
The Drunken Sailor
Bela Bimba
St Anthony Chorale
Ecossaise (Beethoven)
The Marseillaise
Caledonian March
The Sloe
Sailor's Hornpipe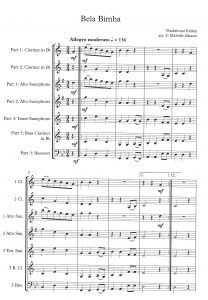 The download includes five PDF files:
Complete set of parts for the core instruments
Complete set of parts for additional/optional wind instruments
Complete set of parts for additional/optional brass instruments
Concert pitch scores for the complete set
Useful extras folder – cover sheet, contents list, guidance notes and details of how to find/print the parts you require.
From these, you can decide what to print out, depending on your circumstances.  Do keep a back-up of all five files for use in future, as players are inclined to lose their copies and/or the personnel of your group may change.