For Four Improvers
(4-part semi-flexible ensemble)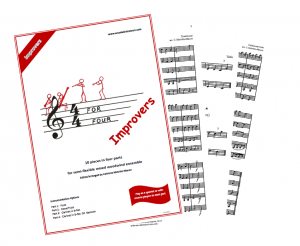 Instrumentation:
Part 1:  Flute
Part 2:  Oboe/Flute
Part 3:  Clarinet in B-flat
Part 4:  Clarinet in B-flat  OR  Part 4:  Bassoon
Standard – IMPROVER
Notes, rhythms and technical challenges within the range of ABRSM Grade 2 – 3 players.  Parts are more independent than in the easy-level sets, making greater demands in terms of counting skills and confidence.
Individual parts are relatively straightforward, so that players can concentrate on the ensemble aspects of performance.
Contents:   
Tallis Canon
A Capital Ship
Minka
Theme from Eine Kleine Nachtmusik
Ecossaise (Weber)
Bobby Shaftoe
Welcome to Scalpay
I'll Tell me Ma'
Whatta-Lotta…(Tonguing)
On Ilkley Moor
Hear some snippets (YouTube video – opens in new window)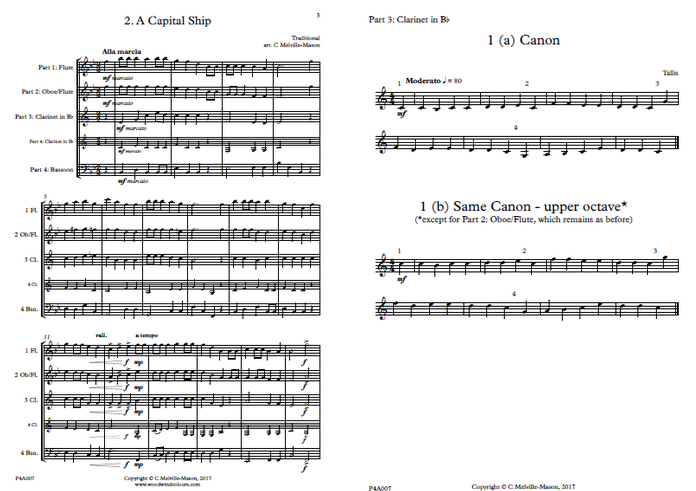 The download includes three PDF files:
Score (transposing) and parts for each tune
Concert pitch scores for the complete set
Useful extras – cover sheet, contents list, guidance notes
You can choose which of the material to print, according to your particular circumstances – but do keep a back-up of all three files for reference/future use!