Five-Play (5-part ensemble)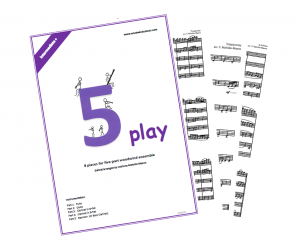 Instrumentation: 
Part 1:  Flute
Part 2:  Oboe
Part 3:  Clarinet in B-flat
Part 4:  Clarinet in B-flat
Part 5:  Bassoon  OR  Part 5:  Bass Clarinet in B-flat
Standard – INTERMEDIATE +
Keys, note ranges and technical challenges suited to players of ABRSM Grade 5 – 6 level or above.  Requires confidence in sustaining an independent part, which may include some tricky elements.
Contents:
Thema Russo (Tchaikovsky)
Fughetta (JS Bach)
Polka in B-flat (Dvorak)
A Rather Susceptible Chancellor (Sullivan)
Yell Yell (Trad)
Soiree Polka (S Foster)
La Coquette (Kullak)
We're Called Gondolieri (Sullivan)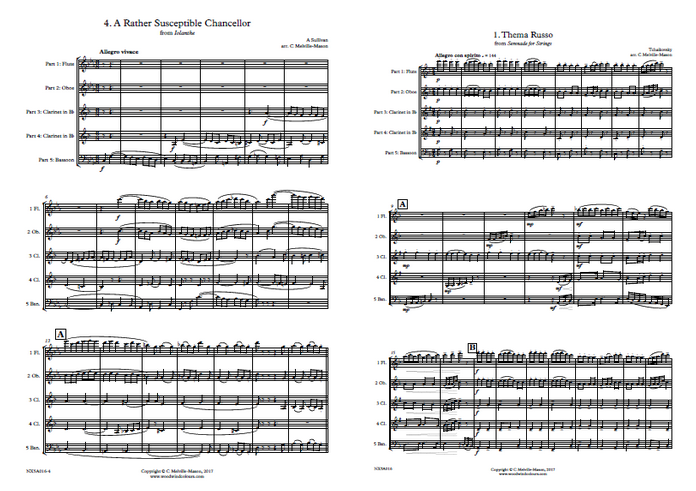 The download includes three PDF files:
Scores (transposing) and parts for each tune
Concert pitch scores for the complete set
Useful extras – cover sheet, contents list, information on the pieces, Bass Clarinet alternatives to Part 5: Bassoon
From these, you can choose what to print out, depending on your particular circumstances.  Do keep back-ups of all three files for reference/future use – who knows, your bassoonist might break an arm two days before your concert, leaving you to summon up a bass clarinet player to fill in!