The Hebrides Overture (Fingal's Cave)
for Saxophone Orchestra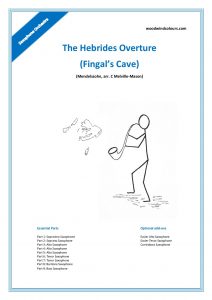 An arrangement of Mendelssohn's overture The Hebrides (Fingal's Cave), intended for a medium-sized saxophone orchestra of perhaps 18 – 30 players.
Great fun to attempt, even if your ensemble is unlikely to manage the work up to performance standard!
Instrumentation:
Essential Parts:
Part 1: Sopranino Saxophone
Part 2: Soprano Saxophone
Part 3: Alto Saxophone
Part 4: Alto Saxophone
Part 5: Alto Saxophone
Part 6: Tenor Saxophone
Part 7: Tenor Saxophone
Part 8: Baritone Saxophone
Part 9: Bass Saxophone
Optional:
Contrabass Saxophone
Easier Alto Saxophone
Easier Tenor Saxophone
Standard: ADVANCED
Intended primarily for players of ABRSM Grade 6 standard, or above.
2 or more players per part are recommended (sometimes essential!).  Provided all the core (numbered) parts are covered by proficient players, those with less experience can either double, judiciously omitting any problem sections, or opt for the appropriate 'easier' add-on part.
The download contains 3 PDF files:
Cover sheet and transposing score
Complete set of parts for each instrument
Useful extras – finding what you need, notes for musical directors, information on the piece.
Don't forget to keep a back-up of your files for future reference.