Easy

Christmas

Tunes 2gether
12 easy-level festive duets, ideal for young (or not-so-young) families who would like to make music together.  Build fluency and strengthen confidence in reading notes and rhythms, while developing ensemble skills.  Why not polish up a couple of tunes to entertain friends or family at Christmas, in person or by video conference?
This set comes with links (embedded in a PDF document) to helpful 'bouncing ball' YouTube practice videos.  Follow your part while listening to how the two lines fit together – or try playing along!  The bouncing ball will help with counting rests, tricky entries or just identifying places where rhythms or timing are not quite accurate – a really useful practice tool.
Instrumentation:
Part 1: Clarinet in B-flat
Part 2: Bassoon
Standard: EASY
Parts are well within the scope of players of ABRSM Grade 1 – 2 standard.  In the few cases where players have to sustain an independent rhythm, reference to the 'bouncing ball' videos should help to resolve any problems with counting.
Contents:
We wish you a Merry Christmas
Good King Wenceslas
Unto us a Boy is Born
The First Nowell
Joy to the World
Away in a Manger
See Amid the Winter's Snow
O Come, all ye Faithful
In the Bleak Mid-Winter
Silent Night
We Three Kings of Orient Are
Jingle Bells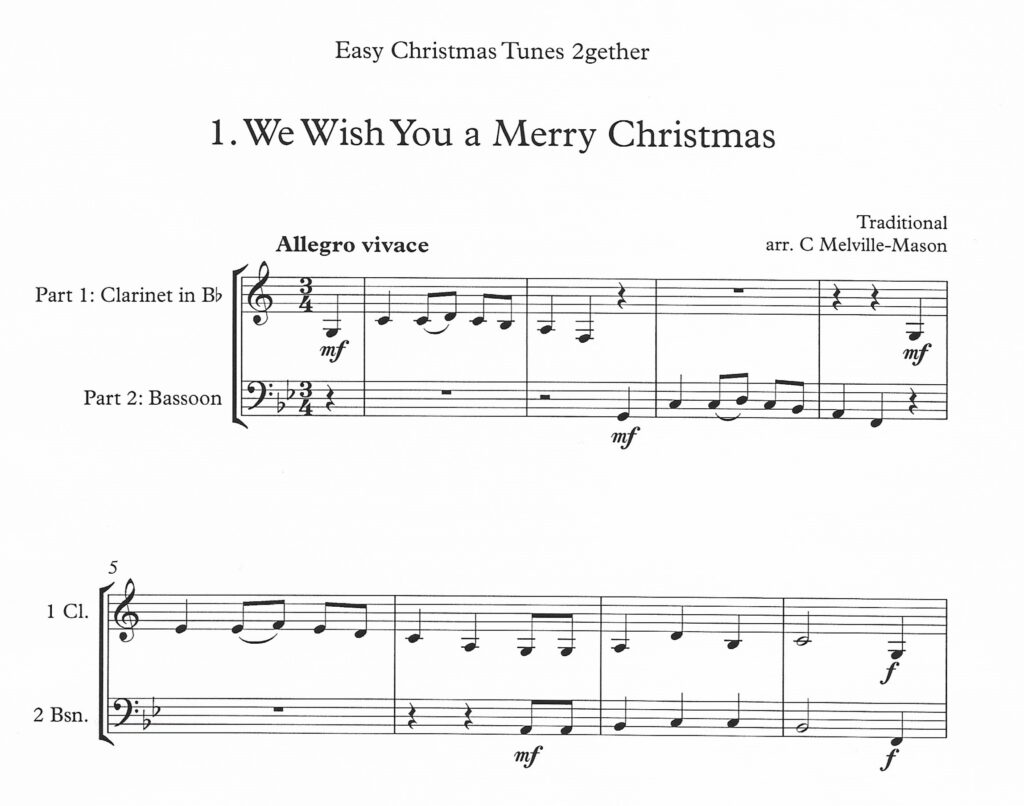 The download includes 4 PDF files:
Complete set of parts for each instrument
Transposing and concert pitch scores for the set
Useful extras folder – cover sheet, details of how to find the parts you require, contents list, guidance notes.
Links to access 'bouncing ball' play-along practice videos on YouTube
Don't forget to keep a back-up of all four files for future reference!